---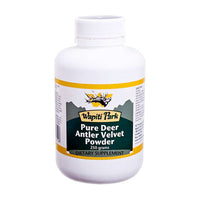 Pure Deer Antler Velvet Powder in a 250 gram canister.
This natural health support product is made from premium grade Antler Velvet grown by humanely farmed New Zealand Red Deer.
A unique powerful natural adaptogenic substance, this Natural Health Supplement is rated second only to Ginseng in TCM ( Traditional Chinese Medicine ).
Wapiti Park's product is produced from ''whole-stick'' Antler Velvet which is freeze dried to preserve as much as possible the natural active ingredients and the IGF-1 & IGF-2 growth factors that make it such an effective natural supplement. Further refinement has lead to the production of a more 'Bio-available' Wapiti Park product.
''Whole-stick'' means that the whole of the antler, other than the furry skin covering is processed. That means that you get the full compliment of Active ingredients and minerals available. It is a known fact that some Antler Velvet is processed minus its ''tips and tops''. This leads to a less active and less effective product. 
Processed Antler Velvet supports Arthritis and Rheumatism relief, joint health and mobility, Immune System Stimulation, Cardiovascular health, and Energy and stamina enhancement. Its Anabolic Growth Factor content supports anti-aging and is proving to be a powerful natural energy and stamina enhancer for those involved in Athletics.
Further New Zealand research has shown that Antler Velvet has the potential to promote the growth of new blood vessels and this has huge potential in accelerating wound healing and recovery from major surgery. Reports from those who have taken the product prior to major joint surgery indicate a very positive outcome re enhanced recovery times. 
While Antler Velvet has always enjoyed a reputation in relation to sexual function enhancement, few realise the importance placed on it by the Asian community in relation to the promotion of physical and mental health and wellbeing of the young.
Pure Deer Antler Velvet powder is suitable for both human and animal consumption. Watch your cat or dog respond after a 30 day course, particularly if it suffers from Arthritis or joint stiffness and mobility problems.
This product is also available in bulk 1 kg bags and for sale to the processing industry at wholesale rates.
Recommended dosage. 250-500mg, twice daily. .5-1 level teaspoon taken mixed with a small amount of food or orange juice.
Suitable for all ages but if in any doubt you should always consult your registered Health Professional.