---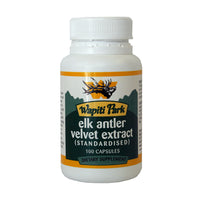 The same potent product as Elk Antler Velvet Extract with the added benefit of the Active ingredient content being analysed and then set to a pre determined level to guarantee consistent efficacy. Get the enhanced Health and Performance benefits of the standardised IGF content in this Powerful, Natural, Safe, Tonic.

Our Extract is a Premium quality product processed from Superior Grade 'whole stick' Elk Antler Velvet by a unique triple extraction method that reduces the compounds and increases the proteins and amino acids.

The product to take for maximum therapeutic benefit, Elk Antler Velvet Extract provides a rich and concentrated source of Amino Acids, proteins, and other nutrients including the insulin like Growth Factors IGF-1 and IGF -2. Each Capsule contains not less than 100 mg of Standardized Elk Antler Velvet Extract (Equivalent to 1100 mg of Elk Antler Velvet), not less than 2,000 ng of Total Growth Factor Complex.

Extract is a high potency, scientifically proven Immune system stimulant, Anti-inflammatory, Energy booster, Stamina and Endurance enhancer, Growth Factor Hormone source; and Premium Natural Health Tonic.

If you suffer from Arthritis, Rheumatism, Cancer, Aids, or seek increased energy, vitality and /or athletic performance then join the growing number who are experiencing the power and performance of Elk Antler Velvet Extract. You'll be glad you did.

Available in the Big Economy 100cap bottles.

For consistent Therapeutic performance - take 1-2 caps per day.